Chaos Crew Bring the Chaos Extreme Pre-Workout v2 325g
£29.99
or 6 weekly interest-free payments from £4.99 with
what's this?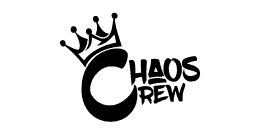 Get an alert when the product is in stock:
The Chaos Crew company has several products that have become popular in the nutritional supplement market. These include the Bring The Chaos pre-workout nutrient. After its launch, it became so popular that it became one of Chaos Crew's flagship products. Therefore, the manufacturer has followed suit and developed a new version of its famous nutrient.
Bring The Chaos Extreme Pre-Workout v2 is an even more improved blend of active substances. Compared to the first version of the supplement, there have been several significant changes here. First and foremost, Chaos Crew has focused on a higher content of caffeine and other stimulating compounds. In addition, substances with nootropic effects have also appeared in the composition of this supplement. As a result, Bring The Chaos Extreme offers even better results in preparing the body for the upcoming training session.
Here are the active ingredients contained in the new version of this nutrient:
– L-Citrulline – the main arguments for using citrulline are that it increases muscle endurance levels while increasing the intensity of the pump. This, in turn, explains why athletes are so keen to use citrulline in particular.
– Beta-alanine – beta-alanine forms an ideal synergy with citrulline, described above. This is because beta-alanine also increases muscular endurance and overall performance. It is, therefore, an excellent supplement for all athletes who want to increase the intensity or length of their training units.
– Caffeine anhydrous – the anhydrous form of caffeine is the primary ingredient in very many pre-workout supplements. However, there is a reason for this. This form of caffeine has a more intense and longer-lasting effect. Therefore, it is the perfect choice for those looking for a proven way to increase their energy levels before training.
– EnXtra™ – is a unique and patented stimulant supplement that does not contain caffeine or other typical stimulants. Instead, EnXtra™ contains natural active compounds that increase attention and focus levels.
– Cupuacu fruit extract – the fruit of this cacao variety contains numerous antioxidants and active compounds. Studies have shown that some of these can improve blood flow in the brain, leading to better brain oxygenation. This, in turn, directly improves the nervous system's cognitive function's functioning.
– Walnut leaf extract – the active compounds in walnut leaves have properties similar to the popular DMHA. Therefore, they can provide a powerful stimulant effect.
– L-theanine – this active compound occurs naturally in green tea leaves. L-theanine mainly exhibits a calming effect and can therefore be a natural counterbalance to the stimulants described above. Its presence will consequently help to maintain the right balance between stimulation and tranquillity.
– Lotus leaf extract – contains numerous active substances with health-promoting effects. They can boost energy, reduce the body's sensitivity to stress, and accelerate fat burning. Therefore, lotus leaf extract can be a treasured addition to the supplementation used.
– Niacin (vitamin B3) – niacin, or vitamin B3, is involved in many vital metabolic processes. Therefore, low levels will have a detrimental effect on both health and general well-being.
– BioPerine™ – taking numerous active compounds will not have the expected effect if the body does not absorb them. The patented BioPerine™ preparation is designed to solve this problem. The practice contains black pepper extract, characterised by an exceptionally high content of active piperine. This, in turn, has the unique ability to increase the bioavailability of other compounds.
– Vitamin B12 – Vitamin B12 is an essential compound for vitality broadly. Its deficiencies can become a source of apathy and lack of motivation to perform. This, in turn, shows why athletes should ensure their body has sufficiently high vitamin B12.
Dosage:
The manufacturer recommends using one product scoop (approximately 13 g) about 25 minutes before training. Mix with approximately 400 ml of water to ensure the nutrient dissolves well.