Hi-Tech Insuload 120ct
£39.25
or 6 weekly interest-free payments from £6.54 with
what's this?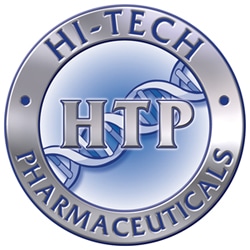 In stock
Carbohydrates play a vital role in our bodies; even their greatest opponents cannot deny this. The very great importance of carbohydrates manifests itself, among other things, in broadly understood muscle regeneration. This is due, among other things, to the action of the well-known glycogen, which increases muscle endurance and allows for longer workouts. Nevertheless, after intensive training, glycogen stores in the muscles become depleted. Then it becomes essential to rebuild them, which requires the consumption of carbohydrates.
So the question arises – what benefits can increase the efficiency of this process? Hi-Tech Pharmaceuticals has sought the answer and has developed a unique preparation called Insuload. As the name suggests, this supplement is designed to support the processes involved in the body's use of insulin. Some of the compounds in this supplement are supposed to exhibit action as insulin mimetics. This, in turn, can speed up muscle recovery and increase the efficiency of carbohydrate utilization in the process.
Of course, achieving such an effect is only possible with carefully selected ingredients. For this reason, Insuload included active compounds such as:
– Gymnema Sylvestre (the gunman) – if a plant is sometimes referred to as a sugar eliminator, it is undoubtedly worthy of interest. This is because this is the name of gunmar, a plant well known to those who practice natural medicine. It has been used for centuries to remedy problems with too high blood sugar levels. Modern science has confirmed that gunmar acts as an insulin mimetic in the human body, which helps in the production and optimal use.
– Phellodendron amurense (Amur cork tree) – berbetin is an active substance contained in the bark of the Amur cork tree. This compound is primarily known for its strong disinfectant properties. However, some scientific reports also claim that berbetin can additionally regulate blood sugar levels. It is this fact that determined its presence in Insuload capsules.
– R alpha-lipoic acid (R ALA) – alpha-lipoic acid, like gunmar, is one of the compounds in the group of insulin mimetics. Therefore, it shows a very beneficial effect in terms of the synthesis of insulin itself and its subsequent use by the body.
– Bitter melon extract – the bitter variety of melon contains chanting, an active substance. This compound can support the action of insulin receptors, enabling the body to use the insulin produced more efficiently.
– Green coffee seed extract – recent scientific studies have provided evidence that green coffee seeds' compounds can regulate blood sugar levels and support insulin synthesis.
– Cinnamon bark – cinnamon is an aromatic spice and a product with many health-promoting benefits. For example, cinnamon bark contains valuable compounds that increase the body's sensitivity to insulin. These can be of great benefit to those struggling with insulin resistance. And when it comes to athletes, cinnamon will support muscle recovery with carbohydrates.
– Banaba leaf extract – although Banaba is a relatively unknown plant, its leaves are becoming increasingly popular in the dietary supplement market. This is because these leaves contain substances that can significantly improve the body's functioning of the so-called insulin economy. Thus, they fit perfectly into the specifics of Insuload capsules.
– Fenugreek Extract – Fenugreek is undoubtedly one of the most widely used plants. This is due to its health-promoting properties and its beneficial effects on the skin and hair. However, the most important for athletes will be its effect on insulin. Studies have shown that fenugreek can increase insulin sensitivity and reduce insulin levels in urine.
– Chromium – chromium is one of the more underrated elements in our daily diet. Meanwhile, it plays a vital role in the body. Suffice it to say that it participates in numerous metabolic processes. In addition, chromium is another of the compounds counted among insulin mimetics. So it goes without saying why its presence in Insuload capsules is essential.
Dosage:
The manufacturer recommends taking one capsule three times a day (a total of 3 capsules as a daily dose). The tablets should be taken with meals containing carbohydrates.