Hi-Tech Off the Chain®30 servings
£26.00
or 6 weekly interest-free payments from £4.33 with
what's this?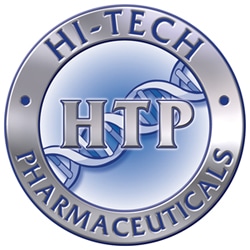 Hi-Tech Pharmaceuticals Off the Chain is an amino acid and substance-enriched product for advanced and hardened athletes. The ingredients contained in the formula support effort and concentration and can help improve athletic performance. It is a technologically advanced product that supports anabolic processes and inhibits catabolism. The formula contains ingredients that support the reduction of fatigue, adding energy and supporting fat reduction. As a result, the supplement should help with recovery after any workout! In addition, it provides several amino acids that effectively protect muscle mass. Thanks to adding additional substances to the formula, the trainer can increase the energy to enjoy longer workouts!
Product ingredients:
Ajinomoto L-glutamine – an amino acid crucial for many metabolic processes. It supports nitrogen metabolism, allowing the removal of unnecessary ammonia, which is produced during protein metabolism. In addition to cleansing the body of unfavourable metabolic products, it strengthens strength, endurance, and the nervous system.
Micronised L-leucine – a branched-chain amino acid that acts on the hypothalamus, where the satiety centre is located. It helps reduce appetite and thus supports building a slim figure and lean muscle mass. It has a noticeable effect on serotonin levels responsible for sleep quality and rest. Leucine is used in athletes to postpone fatigue to train for longer successfully.
Micronised L-isoleucine – a natural essential amino acid present in most proteins. Significant amounts are also present in casein, blood plasma proteins or haemoglobin. It plays a crucial role in tissue and muscle regeneration. In addition, it has a perfect effect on the condition of hair and nails, regulates blood glucose and protects muscle tissues from breakdown.
They are micronised L-valine – an essential amino acid for muscle protein synthesis and energy production. It is a critical amino acid that helps build muscle, facilitates muscle function, and activates somatotropin. It balances muscle mass and fat stores in the human body.
Micronised L-taurine – an amino acid that influences the body's osmoregulation and the process of protein synthesis. It helps improve performance during exercise and is an anabolic that accelerates the flow of nerve signals from the muscles. In addition, it accelerates their regeneration.
Micronised L-citrulline – a non-protein amino acid often used in medicine and sport. Responsible for participation in the urea Krebs cycle. Thanks to its action, ammonia is converted into urea, thus reducing the risk of sourdough, which can occur after active training. In addition, it dilates blood vessels and increases nitric oxide production.
Micronised L-tyrosine – an organic compound that regulates cell metabolism. Has a crucial function as a precursor in synthesising neurotransmitters, i.e. norepinephrine, dopamine and adrenaline, in the human body. It reduces physical and mental fatigue during prolonged and intensive training. In addition, it increases concentration. It is desirable when taking a reduction or with general fatigue. It supports brain function and increases stress resistance.
Micronised L-arginine – an organic chemical compound, an amino acid involved in many processes in the human body. Its action affects the proper functioning of the digestive, muscular, sexual, circulatory and immune systems. It helps build muscle mass and reduces body fat. It removes ammonia and promotes growth hormone j is a nitrogen precursor.
Micronised L-histidine – an organic chemical compound belonging to the relatively exogenous amino acid group. Its function is to accelerate the body's regeneration. It enhances endurance and strength during physical activity. It participates in protein synthesis and improves the part of the digestive and immune systems.
Micronised L-lysine – an amino acid that is the basis for building proteins found in muscles, bones and tendons. Significantly accelerates the growth of muscle mass and the regeneration of damaged tissues. It influences protein absorption and supports skin, bones, tendons and cartilage tissue conditions. Reduces fatigue, boosts energy and improves concentration.
Micronised L-phenylalanine – is an organic chemical compound that belongs to the exogenous amino acids. Its use has measurable benefits for the human condition and well-being. It positively affects the nervous and endocrine systems, increasing performance and mental concentration. It enhances cognitive processes.
Micronised L-threonine – one of the essential protein amino acids. It supports the function of many systems and is vital for human skin and enamel. It is also actively involved in the growth of muscle mass.
They are micronised L-methionine – an essential protein amino acid part of the protein structure. It must be supplied to the body during a meal. Methionine has a crucial effect on improving the condition of nails, skin and hair. It influences body regeneration and tissue growth. It exhibits detoxifying properties.
Caffeine anhydrous – caffeine in dehydrated form. It is responsible for increasing concentration and reflexes and improving mood. In addition, it accelerates the weight loss process.
Green tea extract – a source of antioxidants and many nutrients. The substance accelerates weight loss, stimulates the body, scavenges free radicals and supports brain function.
Guiana holly extract – a plant from the holly family. The extract strongly stimulates the body and exhibits many health-promoting properties. It reduces feelings of drowsiness and fatigue, as well as eliminates a lack of appetite. In addition, it improves concentration, relieves stress, supports the circulatory system, and improves fitness and vitality.
Dosage
The recommended use is one scoop (10 g) of the preparation. Stay within a dose of two spoons. Dissolve the powder in 240-300 millilitres of cold water. Use before or during training.