Hi-Tech Estrogenex® 2nd Generation 90ct
£38.54
or 6 weekly interest-free payments from £6.42 with
what's this?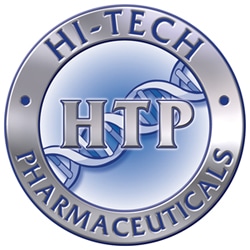 In stock
As all men age, significant changes occur in the bodies of all men related to testosterone synthesis. They cause the level of this hormone to begin to decline gradually. This is due, among other things, to a process initiated by the enzyme aromatase. It causes the conversion of testosterone into estrogens, or female hormones, which, especially in athletes, cause several unwanted effects. That's why many men should care about increasing natural testosterone synthesis while reducing the action of aromatase.
This action has become the hallmark of Estrogenex from Hi-Tech Pharmaceuticals. At one time, it was a trendy supplement. For this reason, the second generation of this preparation, which was recently released on the market, has attracted great interest. But what active substances were included in its composition? Here is a list of the essential ingredients:
– 3β-Androstanediol (5α-androstane-3β,17β-diol) – this compound can have a powerful anabolic effect on the body. The effects of such action can be seen, for example, in terms of more intensive protein synthesis, which affects much more impressive muscle gains. In addition, this compound also has the potential the increased testosterone levels in the body.
– Chrisin 99% – many athletes particularly appreciate natural supplements. Among such compounds is chrisin, a flavonoid found, for example, in passion flowers. Chrisin can support the production of testosterone and act favourably on the body's anabolism. For this reason, it could not be missing from the second generation of Estrogenex.
– Indole-3-carbinol – this natural compound is found in many brassica vegetables, i.e. Brussels sprouts and kale, for example. In specific doses, Indole-3-carbinol inhibits the action of estrogens and those that cause the development of unwanted female characteristics (such as gynecomastia). Notably, the action of this compound is selective. This ensures that it does not hurt health-promoting types of estrogen. It would therefore be not easy to imagine a compound with a better effect.
– Eurycoma Longifolia (Longjack) (extract standardized to a minimum of 30% glycoproteins) – Longjack belongs to the dedicated group of the most popular plant supplements for men. However, this is no coincidence. The plant has been known for years as an aphrodisiac and fertility-enhancing supplement. This is due, among other things, to the fact that the glycoproteins in Longjack have a beneficial effect on male hormonal balance. This, in turn, positively affects both perceived libido and testosterone levels.
– Muira Puama – another well-known plant aphrodisiac is Muira Puama root. Its benefits are primarily related to sexual aspects. Compounds in this root can have a beneficial effect on erectile strength, perceived libido and sexual satisfaction. There are also hypotheses claiming the positive effects of this plant on physical endurance levels and testosterone synthesis.
– Quercetin – of all the compounds mentioned so far, quercetin is by far the best known. Athletes often use it for its antioxidant properties, which can promote recovery. However, it is worth knowing that quercetin can also support the body in maintaining proper testosterone levels. This, in turn, sheds a whole new light on this popular compound!
– Coumesterol – this compound is found, for example, in soybeans, Brussels sprouts and spinach. It contains so-called phytoestrogens, which can contribute to hormone regulation in small doses.
– 6′,7′-Dihydroxybergamottin – under this complicated name is a natural compound found, for example, in pomelo fruit and grapefruit. It can increase the level of assimilation of certain nutrients. Thus, its presence in Estrogenex may benefit the overall effectiveness of supplementation.
– Naringenin – another compound isolated from the fruit is naringenin, which shows a beneficial effect on testosterone synthesis in men. The mentioned effect becomes apparent with regular supplementation of this compound. However, it is worth remembering that naringenin will show synergistic effects with other active substances contained in Estrogenex capsules.
Dosage:
The manufacturer recommends taking three capsules daily (1 capsule every three times a day). Each capsule is best taken with a meal.